IPS emax® CAD
IPS emax CAD lithium disilicate is the most commonly used glass-ceramic worldwide. Because the material covers a wide variety of indications and combines efficiency with easy handling. The versatile and reliable lithium disilicate glass-ceramic IPS emax CAD ensures vibrant esthetic results. As a result, very good light-optical properties, in combination with a unique material structure and high strength (530 MPa), allow beautiful, natural-looking restorations to be achieved. Finally, the high level of clinical evidence with regard to IPS emax CAD provides assurance and reliability in the production.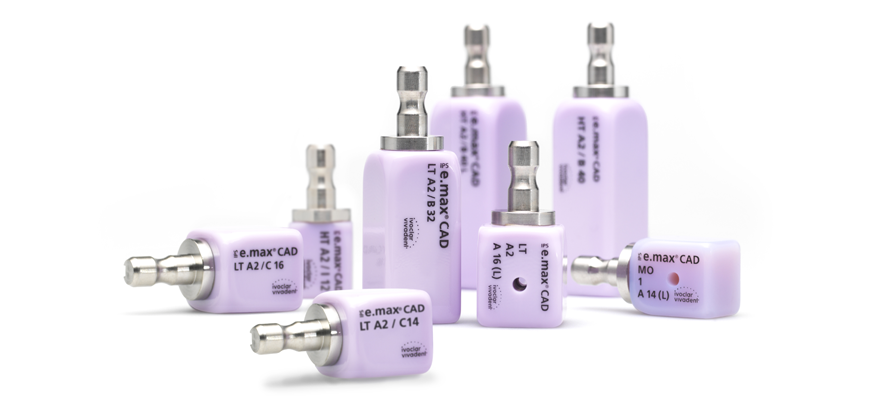 emax – INDICATIONS
Veneers (0.4 mm)
Occlusal veneers
Inlays
Onlays
Partial crowns
Crowns
Minimally invasive crowns (≥1 mm)***
Three-unit bridges (up to the second premolar as the terminal abutment)
Already complete
Esthetics and strength are united in one material therefore to provide reliability during processing. Furthermore, this helps you to create restorations efficiently and implement the patient's expectations directly.
Less rework
We are able to reproduce shade accurately, because of the wide range of products available. The assortment always has the correct block in the right restoration shade.
Flexibility
In the comprehensive block portfolio including 4 translucency levels (HT, MT, LT, MO and Impulse shades) and different block sizes – therefore you will always find the right solution.
IPS e.max Lithium Disilicate
Our dental laboratory uses this material in conjunction with either press or CAD/CAM technology. Years of clinical experience confirm the high strength of 500 MPa* for IPS e.max lithium disilicate. We can confirm the brilliant performance of this material is based on a combination of excellent flexural strength and high fracture toughness. The clinical success of the material attests to its quality. Furthermore, these properties allow you to work according to the requirements of conservative dentistry. Depending on the patient situation, the restorations may be veneered in a highly esthetic manner or, if fabricated as monolithic restorations, they will be stained.
Patients with devitalized teeth
We can deal with any clinical case – even if the preparations demonstrate a dark shade (e.g. as a result of discolouration or titanium abutments), all-ceramic restorations may be used. In this case, it is important for you to inform us about the die shade and our dental technicians can then select the IPS e.max lithium disilicate material in the required opacity therefore allowing us to design a true-to-nature esthetic appearance.
We are proud to associate ourselves with Iivoclar Vivadent – suppliers of our emax range: you can find out more here
To see The Teeth People's other products ranges click here